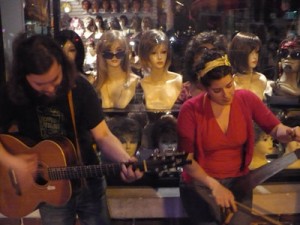 Last week, we featured a song by then-local singer-songwriter PJ Bond from the pre-video days of Busk Break. This week, we're adding the second tune from that recording in July of 2010, as Bond was joined in front of Kim's Wigs by his friend Lauren Baker.
Baker is probably best known as the musical saw player from local "absurdist, gypsy, folk, funk, punk" band Sirius.B. (To be fair, like most members of that band, she's a multi-instrumentalist, but the musical saw thing tends to stick out.)
DOWNLOAD THE SONG!
Podcast: Play in new window | Download
Because this recording comes from the pre-video days of the project, the accompanying video is taken from "One Upon a Honeymoon," a creative-commons film from the Prelinger Archives.