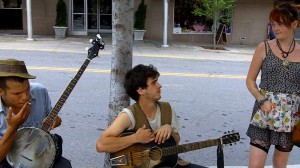 A great band can turn even the most cliche of tunes into a memorable moment of music. Here, New Orleans-based buskers Natchez On Fire play their version of the extremely familiar traditional folk tune "The Crawdad" song, and manage to keep things interesting.
This is one of a pair of recordings we made of the group during their visit to town in May of 2012. The band broke up the following year, making this is one of the few recordings of their sound. Members from the band, however, appear in several other Busk Break videos with other projects.
DOWNLOAD THE SONG!
Podcast: Play in new window | Download
Originally recorded 05/13/2011.