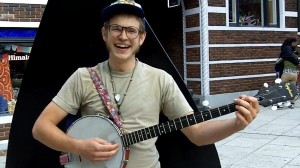 Recently unearthed from the Busk Break archives, Caster covers this classic "dirty blues" tune in 2011!
At the time of this recording, banjo-playing busker Caster had yet to write a song he felt comfortable playing in front of a camera. So I asked him, "Do you have a cover that you feel you really love? A song that you've truly made your own?"
He paused, stroked his thin chin beard, and thought. Then with a smile that seemed to indicate he was a little embarrassed, he said "I've become rather attached to a song called 'Your Biscuits Are Big Enough For Me'"

DOWNLOAD THE SONG!
Podcast: Play in new window | Download
Although Caster knew the song as a Justin Townes Earle tune, its origins go back a bit further. The notoriously unsubtle king of the food-related double entendre, Bo Carter, wrote the song back in the 1930s, and it's had a long history of covers since. Earle's cover is easily the best known in recent years, and almost certainly introduced the tune to thousands of people who would never have otherwise heard it.
Caster's cover, however, may be one of the most energetic and fun versions of the song out there. So why did this performance sit around for so long in the Busk Break archives? Because the other song from that session was Caster's cover of "I Wan'na Be Like You (The Monkey Song)," which was just a hint more entertaining. (In fact, the two sound kind of similar.)
So, I already had one great tune for the series that week, and I had plenty of other videos to work on. It was spring in Asheville, and there were buskers everywhere, so I quickly forgot about this other, not-exactly-terrible song from the same session. It wasn't until I was re-editing the other video to HD for the new website that I realized there even was another performance. And I'm very, very glad I ran across it.