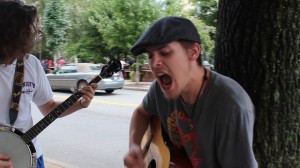 It's hard not to have a hint of prejudice when you encounter a guitar-and-banjo busking duo. Almost certainly, you'll prepare yourself to hear some nasal-pitched bluegrass tune, or maybe some gritty, jazzed-up novelty blues song. What you probably won't expect is to hear music that owes as much to Marcus Mumford and Thom Yorke as it does to Earl Scruggs or Lawrence Marrero. That's exactly what makes The Archaic so interesting.
It was a very busy afternoon in downtown Asheville. Several solid days of rain in a generally scorching summer had kept the city's street scene fairly quiet, and once the sun came back out, tourists and buskers alike came out in force. Every street corner seemed to have someone performing on it, and many performers were busking in odd locations. I ran into The Archaic performing at the corner of Haywood and College, a shady spot with fairly bad acoustics, right next to a giant concrete wall and a busy intersection. Even though the recording conditions weren't ideal, I was glad to run into them again. I'd met the duo in late spring of 2011, and their original tune "County Down" was one of my favorite recordings from that era.
They were eager to play some their newer tunes, and decided to start with the song "John Henry." There's a love-it-or-hate-it dissonance to The Archaic's music, but this song does a good job playing that as a strength. It's a darker song than most buskers would dare perform for tips, and it has none-too-subtle religious undertones. But it's also a fundamentally interesting song, and it clearly has something on its mind.
DOWNLOAD THE SONG!
Podcast: Play in new window | Download
The next song is called "Coats," and it's really a powerhouse of a tune. It'll also help you understand why I made a reference to Radiohead in the introduction. There are actually many, many pop references I could have made, but it's that Thom Yorke-style falsetto that was the easiest to point to. While the sound quality of the video has a few problematic moments (not much you can do when the band is playing that close to a busy road), there's still a lot to like in the performance itself.

Right click here and "save link as" to download this song.
During the previous song, guitarist/vocalist PK Chaney broke a guitar string, and was ready to take a break for a bit, move on and play somewhere else later in the day. Not knowing if I'd be able to catch up with them again, I asked if there was anything he could play that wouldn't be ruined by a missing guitar string. With a smile that made clear he was up to the challenge, he started into "a very old" song he knew, the J.M. Crofts tune "The Irish Rover." Even with a half-working guitar and a bandmate who only kind of knew the song on banjo, it was a fun performance that I'm very happy to share.
Right click here and "save link as" to download this song.
If you'd like to see more from The Archaic, the band does have a YouTube channel. Although it hasn't been updated with new content in a year, there are several early performances on it that show just how much the band has changed and grown.