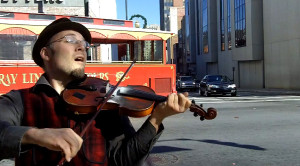 On a blustery November day in 2010, local fiddle icon Ian Moore (then of The Rib Tips) performed the classic tune "Hard Times (Come Again No More)." Written in 1854 by Stephen Foster, "Hard Times" had a particularly poignant feel in the still slow economy of 2010. In fact, even Moore — a well-established regional performer — had been struggling, taking a job as a truck driver to make ends meet.
This was one of the earlier Busk Breaks to be filmed, and it is presented here in an HD remaster for the first time.
"An original?" Ian Moore replied, skeptical. "How about something in the public domain? I don't really write things. I tamper with them."
I'd run across Ian at the corner of Haywood Ave. and College St., on the fat patch of concrete just opposite Pritchard Park. Even back then, before the busking in Asheville had become quite so territorial, it was a prime performance spot. I knew Ian very casually, having reviewed The Rib Tips a few times, and having spent an evening hanging out with him and the band for a story or something a few years earlier. We were hardly close friends, and I wouldn't even put money on him even being able to remember my name, but I was still a warm smile on a cold day and he seemed glad to talk to me.
Like me, Ian had been away from Asheville for a few years. I'd been making a go of a hyperlocal news site called the Spartanburg Spark, and had only just moved back a few weeks earlier. Ian, meanwhile, had been working in the far north of Montreal.
"My French is incredibly shitty," he told me. "I kept trying to speak Spanish with a French accent, just to see what would happen. In Montreal, they can't even look at you snobbishly when you do that, because they know that Parisians would look at them snobbishly. But my mutant romance language still didn't cut it."
Ian (or perhaps his family) has land out in Jackson County, so leaving the area for any adventure implied an eventual return home. "We might float off again …" he said cryptically when I asked if he was back for good.
My primary experience with Ian was as the extremely charismatic frontman for the bluegrassy, old-timey, hoedowny mostly trio The Rib Tips. As a result, I as deeply curious if the band, which I'd heard nothing from for years, would be getting back together.
"The Rid Tips could be made to happen … if they are requested," he said. And then he broke the cryptic showman persona for a moment, something difficult to maintain in that chilly weather.
"I play as many gigs as I can, but I've had a day job driving a truck," he told me. "I've just been given my notice, and I'm really happy. I think I've been trying to quit for, like, months. And now they decide to lay me off?"
He gave me a big, broad smile. Even with the hassles of finding work in a crummy economy, it was clear that there was nothing he'd rather doing be than playing music.
And with that, knew exactly what song he wanted me to document for his first appearance on Busk Break.