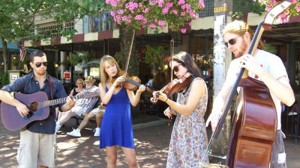 Listening to how neatly the members of The Leather Britches fit together as performers, you'd be hard-pressed to guess that the group had only been playing together under that name for the better part of an afternoon.
Composed of four friends who came to Asheville for, as they sheepishly put it, "this fiddle gathering … like a convention." Of course, anyone who follows the Asheville music community would instantly know what they were talking about: The Swannanoa Gathering at Warren Wilson College.
The quartet wouldn't exactly characterize themselves as a band, although Nick DiSebastian (guitar) and Charles Muench (bass) were both members of the Lancaster, PA, group River Wheel. Bronwyn Keith-Hynes (fiddle) and Jen Starsinic (fiddle) also had a musical project together, and three of the four lived in the same town and attended the same school, and had played together under various names over the years. On this day, they had decided to call themselves The Leather Britches.
Here, the quartet perform the cross-genre standard "Make Me a Pallet on the Floor."
The accompanying video, A Close Call (1914), comes from the Prelinger Collection at Archive.org.