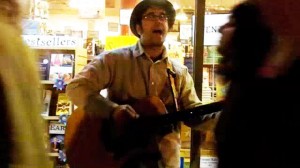 In many ways, the fall of 2010 was the defining year for the busking scene in downtown Asheville. While street performers were hardly unknown in the city, a number of factors combined during that season to put Asheville on the map for traveling musicians that year. One of those factors was the first Asheville MoogFest, which brought a wealth of national-level electronic musicians to an already music-crazed city during Halloween weekend. Where there's people and foot traffic, there will be buskers.
That's not to say that Ben Wilton planned his arrival in town around what would become one of the region's major music festivals for the next few years. If anything, he seemed a little overwhelmed at just how many people were out on the streets on that chilly October night. Originally from New Jersey, Wilton had been "rambling" around the East Coast with his guitar for the previous three weeks, and was only planning on being in town for a few days.
As you might imagine, I spent most of the evening running from busking spot to busking spot, trying to capture as many songs and performers as possible. In retrospect, I do regret not getting another tune from Wilton, as this was the only time we've ever crossed paths.