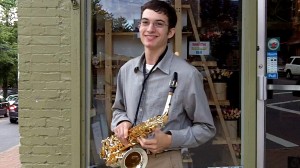 Roger Miller's "King of the Road" isn't a very complicated tune. It's so simple, in fact, that the melody and charm of the song can easily fit in almost any genre of American music. It's considered a country tune largely because Miller was considered a country artist, but even a quick glance at YouTube shows just how flexible the song structure is. The lyrics are purely functional and entirely literal: It's a song about a vagabond who has mastered the art of getting by. There are a few idioms and metaphors in the lyrics, but overall it's a tricky song to read subtext into. Perhaps it's that very simplicity that makes it so catchy and memorable.
Even without lyrics, Miller's 1964 hit is still instantly recognizable. In this 2011 recording, Asheville-based sax-playing busker Ashby Gale covers the tune in the doorway of a futon store on the corner of Walnut and Broadway. The recording happened to take place in October during the annual Superhero 5K race, and if you watch the background you can even see a few costumed runners wandering around.
If you enjoy Ashby Gale's playing, you can order his CDs of jazz and blues standards here.