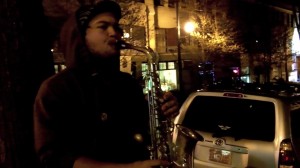 There are some songs that bypass every bit of cynicism, pretense and stylistic preference. They slip right through the portcullis bars of the psyche, and slide into the unguarded heart where nostalgia and memory live. For me, one of those songs is "Over The Rainbow." Sure, the The Wizard of Oz plays a part in this, but an even bigger reason is Israel "IZ" Kamakawiwo'ole's medley version of the song. Played on a tiny ukulele by giant hands, that tune is one of the reasons I first started paying attention to folk and traditional music.
Not that Adhi's cover bears much resemblance to that version, mind you. It's entirely his own. But I like this performance as much for the power of the song, which shines through even when given a jazzed up improv treatment.
DOWNLOAD THE SONG!
Podcast: Play in new window | Download
This video was shot entirely on the fly in early spring of 2011, as I was walking home from some social event or other down past the eateries and bars of Lexington Avenue here in Asheville. A decade ago, before gentrification completely gripped the city, Lexington was the bohemian part of the city, and where I spent most of my youth and early adult life. Simply walking down that street evokes an almost crippling level of nostalgia for me, and I rarely spend much time there there days.
It's also not an area that's terribly popular with buskers. There are some, but the lower-level of foot traffic makes it a much less appealing option than in front of Malaprop's, near Pack Square, on Pritchard Park or in front of the Iron Sculpture on Wall Street. And it's rare indeed to see a busker playing there after dark.
But on this night, there was one. And he was perfect for that chilly April evening in 2011.