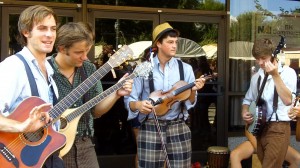 You might not think that a half-dozen clean-shaven young men belting songs from the 1930s about cocaine addiction would be a natural crowd pleaser in a street festival, but you'd be wrong. Maybe it has something to do with their mashup addition of the thematically similar Old Crow Medicine Show tune "Tell It To Me," which certainly seemed to please many in the audience.
Or maybe it was the brigade of mostly female fans, many of whom made it very clear that they were enjoying the testosterone on display at least as much as the music. That, or cocaine use is just a heckova lot more popular these days than I realized.
Here, the guys from Tomb Nelson and The Stillwater Hobos perform the American folk song "Take a Whiff on Me" (covered by everyone from Lead Belly and Woody Guthrie to The White Stripes and Old Crow Medicine Show) to the passersby during Bele Chere 2012.
DOWNLOAD THE SONG!
Podcast: Play in new window | Download