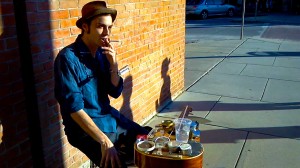 It's a rare enough thing to harness one's passion and dedication long enough to master any musical instrument. But to create a musical instrument, develop techniques for playing it, and then become a master of that instrument … it's practically the stuff of musical legend. But for Austin-based musician Mike Gray, it was just something to do with a broken guitar.
Here, Gray performs the Blind Willie Johnson tune "Everybody Ought to Treat a Stranger Right" near the Grove Arcade earlier this year.
If you follow the Asheville music scene, you may recognize Gray as a one-time member of The Firecracker Jazz Band or as one of the rotating players in The Screaming Js. But it was another Asheville notable, his artist friend Robert Seven, that inspired his unique instrument. Seven's "go-box" idea is essentially a series of found-art percussion instruments, crossing the line between visual art and music.
Gray was playing with one of these creations, one which had a large spring on it, with a pair of chopsticks. "I was like, 'That spring is nice. It's almost like a bass string.' And then, I was thinking that if I could tune it to a root, I could play just that one string with a band."
Around the same time, Gray was thinking of some way of salvaging a broken guitar he owned. "After a couple of months of my brain moving around, I started just screwing things to this little guy right here. I guess this is what came out."
But his invention is hardly complete. "It kind of changes shapes," Gray says. "It's kind of a blank palette on top here. If I get tired of a sound, then I take it off."