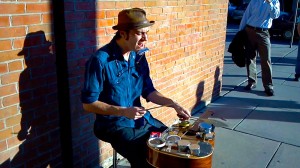 If you've never seen Austin-based musician Mike Gray bust out some tunes on his "go-box," you've missed out. Inspired by the designs of Asheville-based folk artist and performer Robert Seven, there's really no way of explaining what he's playing other than "It used to be a guitar, but there's now a bunch of percussiony bits on it, and he plays it with chopsticks." Here, he plays a version of the Professor Longhair tune "Her Mind Is Gone" near the Grove Arcade.
DOWNLOAD THE SONG!
Podcast: Play in new window | Download
He describes the song as being one of his favorite tunes to play with his friends in the Asheville-based group the Screaming Js. "It's one of my heart-and-soul projects," he says. "Whenever I get to play with them, I do. We get to have what we call 'church.'"
I asked him what he meant by that, and he gave me a big smile.
"We just get in the spirit, and start grooving. It's amazing, man. The songs are already there before you get there," Gray said. "You load in your gear to play, you set it up, and you tweak it and stuff. People think that you're playing the shit, but you're basically just opening doors to get into this, like, boat that's floating down a river. It's already going."
"If you just allow that to happen, anything can happen. If you've got five guys doing that, you've got a wire connection. It's just wrapping and turning around itself, and it's carrying tons of voltage."
Mixed metaphors aside, it's hard not to be captivated by Gray's playing, and his unusual busking instrument. Made from a broken guitar, the "go-box" is as much an expression of Gray's talent as an arranger as it is a testament to his skill as a performer. More on the go-box in the next video.