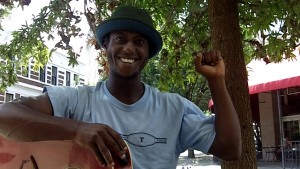 When Kevin Jerome told me that he wanted to "reclaim" the 1929 Albert E. Brumley hymn "I'll Fly Away" for "the black man," I was dubious. Jerome is an unquestionably talented performer, but was he really up to the task of reworking one of the most recognized gospel songs of all time? In a word, yes.
"I'm going to do a remake," he told me with a big smile. "It's one of the few remakes that I do. When I heard [the lyric about] the shackles on the feet, I just knew that wasn't some good old country song like most people take it to be."
To understand my doubts, you have to take into consideration the fact that, although it may sound like it could have started life as a negro spiritual which somehow became honkied up in the early days of recording, "I'll Fly Away" is actually a gospel reworking of an early 1920s hit ballad called "The Prisoner's Song." Brumley was a white guy working on his father's cotton field when he decided to take that song and turn it into a gospel tune, and it happened well after slavery was abolished. So, my first reaction to Jerome's pre-performance story of wanting to rework the song was "He doesn't even get what the song is about."
But I was completely wrong. Not only did he completely have a vision for what the emotional heart of the song was, that longing for freedom in a life of chained toil, he actually understood it in a way that I didn't. And he wasn't trying to tell the same story. His is a song with a darker tone, less hopeful but also more grounded in the here and now. Even the rap section of the second half reminds us that's he's not talking about the physical slavery of the past, but rather the spiritual slavery of the now.
And he does this while playing three instruments (the kick drum and tambourine are out of shot) and singing. It's a surprisingly solid song, and I've always been a little surprised that the original low-def version of the video wasn't more popular than it was when I posted it in 2010. It's a good song that deserves plenty of attention.
DOWNLOAD THE SONG!
Podcast: Play in new window | Download